Senti AI tagged as Google Cloud partner with Machine Learning specialization
Posted by Senti AI
September 13 , 2021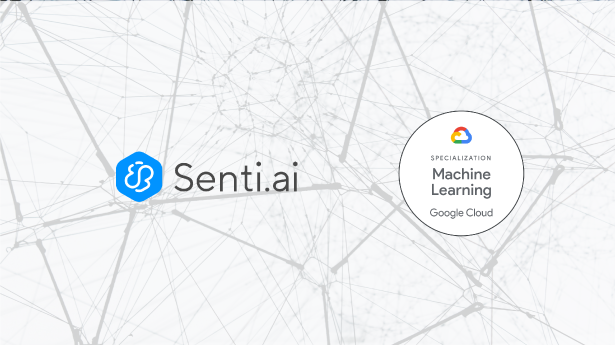 As a leading artificial intelligence company in the Philippines, Senti AI receives yet another recognition for its efforts in driving its clients' efficiency.
Last August, Google Cloud Philippines (GCP) tagged Senti AI as a partner with a specialization in Machine Learning Services, the only GCP partner in the Philippines and among the first in Southeast Asia so far to have achieved the designation in terms of ML workload.
The Specialization tag is the highest technical designation a Google Cloud partner can achieve. It is only given to partners who have proven their technical capabilities, established their Google Cloud Services practice, and continuously ensured consistent customer success.
As a Philippine company that managed to achieve this recognition, Senti AI is even more committed to helping organizations pursue their goals through AI purposefully designed to understand Filipinos best.
Google Cloud also recognized Senti AI back in April as a breakthrough partner out of over 30 partners they currently have in the Philippines.
Senti AI bagged the breakthrough partner label for its ongoing work in improving its Conversational AI expertise. The company collaborated with Google Cloud in the past year to help a leading Philippine bank manage its call volumes at the height of the COVID-19 pandemic.
Through Voix, Senti AI's Google Cloud-powered voice AI solution, the bank's voice bot handled low-level queries while human agents attended to more pressing customer concerns.
This project led to Senti AI being recognized as a conversational design and contact center AI (CCAI) integration expert for Google Cloud. Prior to this, Google Cloud also acknowledged Senti AI for its Cloud Machine Learning (ML) and ML APIs expertise, as well as Google Cloud experts in providing services for the Financial Services and Global Public sectors.
What it takes to achieve ML Specialization
Being recognized by GCP as a partner with ML Specialization does not happen overnight. Senti AI worked with a number of Philippine public and private institutions in the past year to improve their services or adjust to the changing business landscape as organizations were forced to go digital amid lockdowns.
Some of these successful customer stories, include:
Closeup celebrates small acts of love with e-card campaign
Manila City Government mitigates citizen complaint process
Senti AI also has Google-certified professional engineers, as part of the company's core value of being lifelong learners. From designing and building to securing and monitoring, PDEs ensure that systems are safe, compliant, and are scalable to the needs of the client.
What it means for Senti AI's partners
Organizations in the Philippines who are looking for AI services and solutions specifically geared towards Filipino users can now easily find the right partner. As a homegrown AI company recognized for its technical capability, Senti AI is the go-to partner for institutions looking for guidance in their digital transformation journey.
Custom AI
Can't find the right solution for you? We develop customized solutions to fit your needs.