PLDT Enterprise Partners with Senti AI to Make Artificial Intelligence Accessible for Filipino Businesses
Posted by Senti AI
March 18, 2020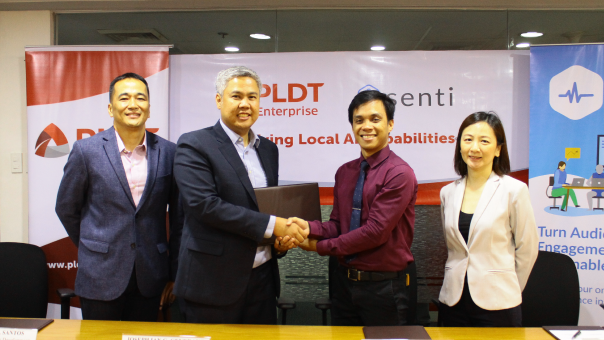 PLDT Enterprise's innovation lab—Innolab—is focused on looking for local startup partners it can collaborate with and support (L-R: AVP & Head of Core Business Development for PLDT Enterprise Andy Santos, PLDT FVP & Head of Enterprise Core Business Solutions Jojo Gendrano, Senti AI CEO & Founder Ralph Vincent Regalado, and Senti Techlabs Inc. Head of Research & Co-Founder Charibeth Cheng)
With the contract signing done and delivered, a blazing partnership has formed between PLDT Enterprise, the B2B arm of the Philippines' leading ICT and digital provider–through its innovation arm, PLDT Innolab–and Senti Techlabs Inc. (Senti AI). As the Philippines' pioneer and leading AI company, Senti AI aims to help machines adapt to human communications so that they help drive efficiency in multiple organizations. It is fitting, then, that PLDT Innolab partnered with Senti AI since they both have the same objectives for empowering local startups and tech companies of today.
Senti AI's vision of making intelligent machines grasp the culture and communication of our fellow Filipinos is a great bond that ties the company together with PLDT Enterprise and PLDT Innolab. Going on with the aims of PLDT Enterprise and PLDT Innolab which is to offer a broader and extensive scope of innovative products and services to their existing enterprise customers; Senti AI has provided a mutual alliance in bringing AI to all sizes of businesses all over the Philippines.
"Filipino entrepreneurs are generally conservative when it comes to making investments and growing their businesses and we at PLDT Innolab have made it our mission to dispel this kind of thinking. By partnering with local startups, we want to empower our entrepreneurs to be unafraid in taking risks and developing their novel ideas," said AVP & Head of Core Business Development for PLDT Enterprise Andy Santos.
Way back in 2015, when Senti AI first offered Senti Pulse, a social listening dashboard used to detect and monitor conversations in local languages which has opened many opportunities for extensive market insights, it has provided a vast and new market for the Philippines: Artificial Intelligence. PLDT Innolab's business development influence and thrust made it possible for Senti AI to successfully build up Pulse, to make it available to more customers.
PLDT FVP & Head of Enterprise Core Business Solutions Jojo Gendrano shared his excitement for the partnership saying, "We at PLDT Enterprise are proud to join in Senti's vision of making AI accessible for businesses of all sizes through the improvement of their Pulse solution. By partnering with the country's pioneering AI provider, we hope to co-create even more relevant solutions that will help us promote a culture and mindset of innovation in the country."
"We're at a time when the landscapes of business and technology are rapidly changing. As technological advancements continue, Filipino companies constantly face bigger demands for speed and efficiency. When we talk about speed and efficiency, they are what humans are most likely to fall short in. Such a gap is where we see AI's value in, and this is why we heavily contribute in terms of commercial and community efforts. We're honored and excited to partner with PLDT in being at the forefront of innovation in the Philippines." says Ralph Regalado, CEO and founder of Senti AI.
Custom AI
Can't find the right solution for you? We develop customized solutions to fit your needs.