Outstanding Women: Filipina Scientists Who Are Shaping the AI and ML Landscape
Posted by Senti AI
March 20, 2020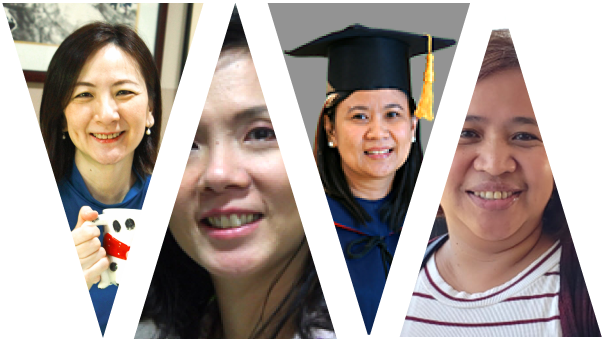 A look into these Filipinas who drives the evolution and influences the scene of Artificial Intelligence in the Philippines.
Above and beyond, Artificial Intelligence (AI) is becoming a powerful source in various aspects of our lives. AI is determining and transforming how we human beings can exist in this world. There are progressive developments in our reality that makes our lives easier and structured. These growth are the innovation of numerous technologies like chatbots, automated services and customized suggestions. Machine Learning (ML) is another system to behold. The machines' ability to automatically study, learn and adapt from its own experience is an extraordinary program that can be seen today.
Among the programmers, scientists and developers who have contributed to shaping the AI and ML landscape are four outstanding Filipinas in the Philippines. They have directed all their efforts into purchasing and integrating AI into interfaces to provide ideal ways of interaction between the machine and its human equivalent.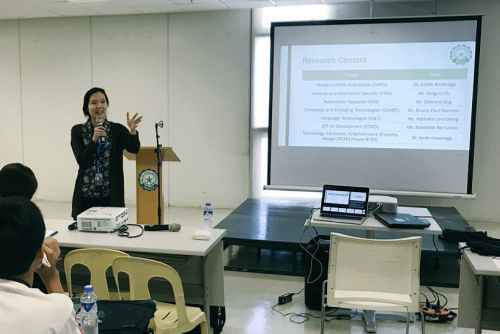 Software Technology Department Assistant, De La Salle University Manila
Understanding that there are many potentials in using conversational starters like chatbots to create a beneficial relationship between humans and computers, Dr. Ethel Ong forged the channels of making that vision come true.
She has succeeded in creating a conversational chatbot called ORSEN. ORSEN is a virtual collaborative storytelling AI which can be utilized through both Google Home and Google Assistant; it can also be used through Firebase, as a text-only chatbot.
"There are various applications of the chatbot in the education sector, specifically to engage natural conversations by understanding sequences of text as a form of story and events about the latter's life," Dr. Ong affirms.
Seeing the window of opportunity to work with chatbots, the DLSU professor took the chance of working with conversational agents to provide that much-needed assistance with contextual storytelling at its focus. Dr. Ong was able to share that chatbots can give out an assorted amount of applications in the education division. Specifically, in processing natural conversations through its grasp of text. ORSEN, to all its intents and purpose, encourages children to talk to their parents and teachers which will uplift their imagination, education and understanding of the world.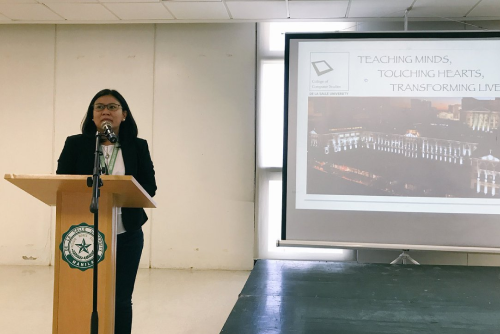 Professor Of Computer Science, De La Salle University Manila
Dr. Merlin Suarez has provided a lot of AI developments since the year 1989. She has worked with an automated grammar and spellchecker; an agent-based resource allocation for the distribution of systems; and, her dissertation on automatic modelling of student programmers' misconceptions of Java OOP concepts way back in 2004. In like manner, Dr. Suarez has worked with emotional and behavioral analysis by combining assistive technologies for those people who have autism and are advanced in age.
"There are various applications of the chatbot in the education sector, specifically to engage natural conversations by understanding sequences of text as a form of story and events about the latter's life," Dr. Ong affirms.
Dr. Suarez is currently working on assistive technologies which will help those who have cognitive disabilities, like autism, and those with geriatric concerns.
Her motivation for working on these projects is to supply constant care and monitor for those who cannot self- or family care. Dr. Suarez's noble task of providing physical and mental health support and conservation is one of the most intellectually-inclined acts there is.
Dr. Suarez can see a bright and promising future for AI, mainly because of its young, tech-savvy population. She invites many to enter a career in science and technology. Likewise, Dr. Suarez welcomes research-driven startups to spearhead technological solutions, with the aid of the government to hasten these efforts.
Dr. Charibeth Cheng
Associate Dean and Assistant Professor at the Department of Software Technology, De La Salle University Manila
Co-Founder and Head of Research, Senti AI
Dr. Charibeth Cheng specializes in the area of Natural Language Processing (NLP) and Machine Learning. Along with her students, she has worked on developing computational models, tools, and electronic resources that will make machines process, understand and generate text written in local languages such as Filipino.
Dr. Cheng has worked with NLP since 2003 and from then she continued in working with NLP, not only in translation, but also with the process of how AI can understand and learn from our Filipino languages. In fact, the professor took it as a challenge on how to make machines learn from us. She highlights how the continuous development of machines should always be a steady and persistent operation.
Her works of analyzing the tweets during and after the Yolanda typhoon, and the study of election-related tweets were commendable victories. She has also developed a model which can detect hostility or hate in these said tweets and those targeted by it. Her latest project was building a model that identifies falseness in an article. These last two works of the professor was meant to intervene and become involved with the negative experiences most can encounter on the Internet.
"With AI-related resources becoming more accessible, AI will be more accessible to Philippine industries and organizations.  AI will be critical in improving operations, services and businesses, as it supports and enables humans to perform their tasks better."
– Dr. Charibeth Cheng
By understanding the people and the instruments involved used to deceive people, AI-enabled technologies is the way to go in order to avoid any fraud, hate, harassment, deceit and all forms of abuse. Through AI and ML–Dr. Cheng believes–will provide interventions for education and overall development of a person's wellbeing.
Her encouragement of research appreciation at the academe–as well as to every person, student and industry out there–is a rewarding creed that gives great value to all businesses and lives. In the light of research, she encourages the world to keep ourselves to date. It is by knowing which algorithms to implement now that would further move AI, ML and NLP forward.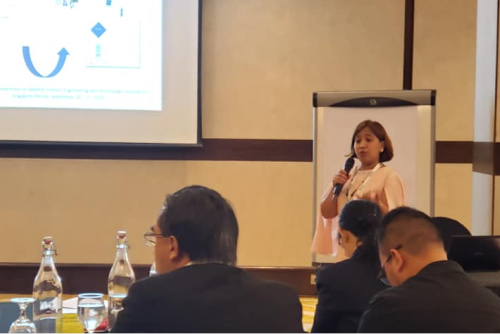 Dr. Thelma Palaoag
Professor at the College of Information Technology and Computer Science, University of Cordilleras
Since 2016, Dr. Thelma Palaoag started working with Machine Learning. It has already been 4 years that she has been employed in engaging ML research and it shows how dedicated and unwavering her drive is, to know everything about the area of study she has herself immersed in.
Dr. Palaoag is proud of her several research studies highlighting the field of disaster risk management in ML. Her work includes a citizen-driven approach with the use of text mining; and how it prioritizes disaster resilience. Her project on thematic analysis of disaster risk reduction strategies with the vulnerable population in mind is an achievement to be had.
The scientist also accomplished in giving a pattern-recognition characterization of disaster related tweets which embodies how resoursceful she can be. Her architectural framework for LGUs was a work to behold for it can help in preparation for upcoming disasters. Of course, her efforts in providing these researches with her students are the most exceptional because they have faced several, most-evident issues in the Philippines with concrete decisions in their arsenal.
"These researches with my students are remarkable since these could help with the issues the Philippines are facing today; especially in decision making. All the advancements made in the applications of ML can and are being used to solve bigger issues to prepare for and recover from crises. Intelligent systems are built using ML algorithms,"
– Dr. Thelma Palaoag
Dr. Palaoag finishes with those emerging technologies that can open up many opportunities for ML. Crisis is everywhere but the professor is steadfast that the data we can collect through AI and ML could be the path in resolving any crisis that would come our way.
An Advanced Tomorrow
Reading all of those wondrous accomplishments above is a worthwhile advocacy to be in. The AI and ML industry is an environment wherein you can experiment and divulge in being the first to deliver results that will help the Filipinos of today and those future generations, digitally and technologically. Being an inspiration to the youth will not only make way for more natural and artificial improvements, but you will also be a proponent for change and development.
With that said, Dr. Ethel Ong, Dr. Merlin Suarez, Dr. Thelma Palaoag and Dr. Charibeth Cheng are only four of the female scientists in our country who are now influencing the AI and ML landscape. Their contributions are revolutionary to what AI can be in the future. There is still more to come. Expect greater and diverse champions of the female kind in the Philippines.
Custom AI
Can't find the right solution for you? We develop customized solutions to fit your needs.